Anniversary Interview: Franz Rauch
Apr 22, 2021
Intact has always been driven by the desire for change and to make the world a better place. Twenty years ago, the four founders decided to use innovative technology for better and safer quality control. A critical factor in Intact's global success has been their will and vision. On the occasion of the company's 20th anniversary, we sat down with all four founders to review a few things and risk a confident glance towards the future.

An interview with Franz Rauch, CFO and Co-Founder of Intact: As part of our anniversary interview series, Franz provides insights into their first business relations, long-term partnerships and the role of trust in corporate history.

Intact's Big Dreams & First Steps
What made you decide to embark on the Intact adventure?
Back then, all of us worked in food production, and we were unhappy with the state of the entire industry. There was a big divide between what we thought was possible in terms of increasing food safety through technology and what was being done. On top of that, the late nineties and early 2000s were a time when a lot of food safety crises, like the BSE outbreak, arose. You combine all of that with four young guys who had a passion for technology, and you have yourself a new company (laughs) – we just thought that we could make a difference here and were curious to find out whether or not we were right.
When you think back to those early days, what were the biggest obstacles you had to face?
Several things occurred in parallel at that time. Coming from an agricultural background, I have never been happy about the producer association's attitude. I was frustrated by their lack of willingness to change and the rigid structures. On top of all this, there was a drug scandal in pork production.
My urge to set new technical efficiency standards became more vital than ever, and I quickly found allies. Thomas Lorber and I agreed to take charge of this critical path for change. The simple consideration of a solution quickly turned into a passionate full-time function. As a result, I quit my job relatively fast without really knowing where it would take us (laughs).
What were your ideas?
Thomas and I agreed to ensure quality in food production, create transparency and guarantee traceability. At that time, the implementation wasn't entirely clear (laughs). Fortunately, Hans (Fruhmann) and Peter (Krainer) joined the team during the brainstorming process. Since then, considerations have been made easier within a group of four people from an agricultural background.
Joint Projects, New Products & Long-Standing Partnerships

How would you describe your first steps in the company?
We held our regular meetings in my basement, spending hours thinking about initial concepts. At the same time, we already talked to Karl Schirnhofer, who later became our first customer. After the drug scandal in the meat industry, he saw the need for immediate action and entrusted us with a quality assurance concept for pork producers. With a simple "Go ahead!" right after the pitch, we won the deal even before we officially founded our company.

After two months, it was time to discuss financial issues with Karl Schirnhofer. He assured us a considerable monthly budget for the development of the concept with the following verbal agreement: "Franz, you tell me how long you need support, and I'll let you know when I cannot afford it any longer!". Based on this level of trust, we've built a long and excellent business relationship. We needed almost three years to develop the ordered software called NutriWeb.
What have been the financial milestones for the company's growth between 2001 and 2021?
As an upcoming and motivated enterprise, we reinvested almost any revenue into product development, which worked well. Soon, we were able to expand not only our product range but also our list of clients. Several collaborative project developments enabled Ecert (the predecessor of today's Intact Platform). In the course of its development, the Intact Platform has opened up completely new markets and industries. We are trusted across standards and business types. From fish to food to aerospace, our software is now used globally to power audits, certification, and standards on every continent.
In 2005, we recognized a strong need for our niche product on the market. A new partnership with the german sales expert Organic Services enabled us to win new customers outside of Europe.

Before our 10th company anniversary, we faced economic challenges. Our financial resources were limited, but our goal was to grow and safeguard Intact's existence. As our sales growth did not yet reflect our full potential, we started looking for investors. In 2017, we chose IMCap as a suitable partner.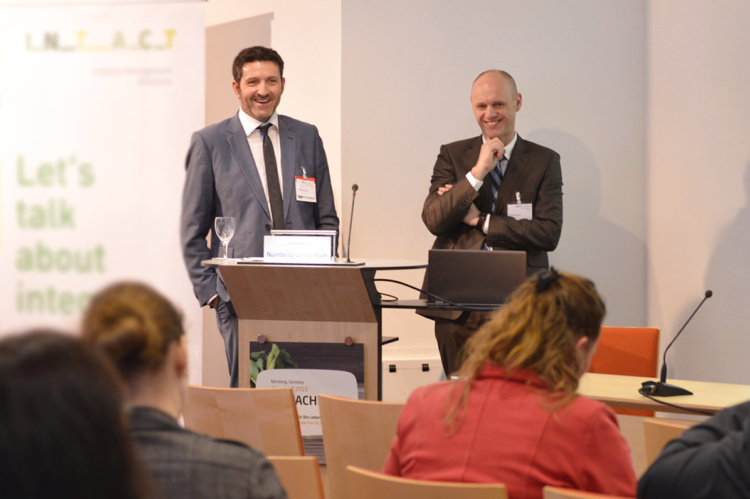 Did continued growth affect the social factor at Intact?
I am happy to say that we have maintained the social factor until today throughout all changes. At Intact, we value a high level of social skills, team spirit and mutual respect. Of course, personal contact has changed due to the growing number of employees. After all these years, the friendly atmosphere and Intact's initial spirit remained the same (laughs).
What do you wish for the future of Intact?
I am convinced that Intact will stay on the road to success. By now, founders and investors are pulling in the same direction – that's great. I am optimistic that Intact continues to make the world a better place by achieving pre-set goals. I also hope that we as a company never stop striving to bring out the best in us – regarding personal and technical skills. This collaborative spirit will encourage us to meet future client needs and successfully master new challenges. Everyone should look towards the future with empowerment and motivation.
Do you remember one moment in particular?
Back at one of our first meetings, we talked about how long we'll probably do this. For Hans, the project would keep us busy just for a few years. You see, the best things in life happen unexpectedly (smiles). I want to end by thanking my colleagues for working together so well, even in difficult times. I am very proud and happy that after such a long time, all founders still pull together. Please, maintain mutual appreciation and acceptance – we all have created a wonderful place to work. Thank you for 20 wonderful years of Intact.
Want to know more?
Do you want to learn more about our thoughts on the current developments of the industry? Make sure to follow Intact on LinkedIn for news, updates and takes on current events.
If you are interested in one of our products or want to exchange thoughts, you can set up a meeting with us – we look forward to hearing from you.