Intact Highlights – 2021 in Review
Jan 26, 2022
2021 commemorated twenty years of Intact as we developed market-leading innovation that will be used for decades to come. We launched groundbreaking new technology, extended the Intact family, hosted our first virtual summit, and welcomed terrific new clients. Check out our 2021 highlights below.
Strengthening our Foundation and Accelerating Growth
Intact's vision has always been to grow alongside the demands of our customers and build cutting-edge products that serve the evolving needs of the audit and certification industry. 2021 was a record-breaking year for us as customers relied on Intact products to digitalize their workflows, a process made necessary by the coronavirus pandemic.
We stayed at the forefront of innovation to service the Intact community and enable long-term growth. These measures included:
Expanding Intact staff by 37% since 2020
Strengthening our IT infrastructure with additional security measures and international servers
Future-proofing all Intact products
Enhancing our support and documentation efforts
Launching innovative new products
Intact built a solid foundation well-equipped to tackle the challenges of the coming years.
We strive to deliver highly efficient, innovative software tailored to face the challenges of our community and are incredibly proud of our newest product, Intact Analytics. 2021 saw the full-fledged release of the groundbreaking new product that took years to develop.
Intact Analytics uses Artificial Intelligence (AI) to analyze audit data, find anomalies, and make suggestions to improve audit performance, planning, standards, and training programs.
The tool provides easy-to-read dashboards that display your key metrics of success. Automated anomaly detection helps you act fast on risks and root causes. AI predicts future audit results for risk-based planning and optimization. The tool unlocks the information buried in your complex audit data to answer business-critical questions, make goal-oriented decisions, and conquer your biggest challenges.
Intact Summit 2021 – One for the Record Books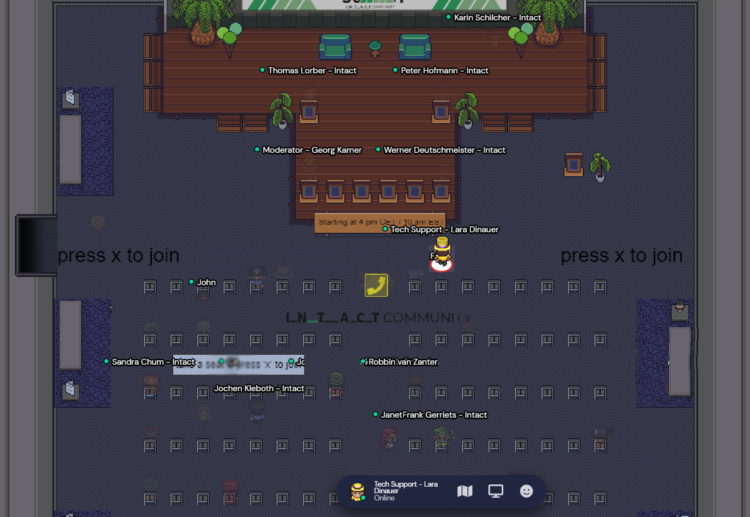 The Intact community is an essential part of what makes our products the most effective on the market. Working with and learning from our diverse, international customer base allows us to develop solutions to the real-life problems the industry is facing.
In addition to community-driven development, we believe in the importance of face-to-face networking to learn from the experiences of the entire industry and have held the annual Intact Summit to facilitate these exchanges.
Facilitating dialogue and exchange within our community is part of our DNA. After being devasted when we weren't able to safely facilitate our planned user summit in 2020 during the height of the pandemic, we decided not to let that stop us for another year. The solution? Intact Summit 2021 – Virtual Edition. Even though we couldn't meet in person, we created a seamless experience that came as close as possible to the real deal. We welcomed a record number of attendees and received positive feedback from the entire community.
Enhanced Customer Service and Documentation
Delivering an excellent solution for our customers doesn't end with the product. Our goal is to create an infrastructure to meet our customer needs on every level. We work hard to continuously raise the bar for our customer service.
We are proud to announce that we took another giant leap forward in our support services in 2021. We increased our support staff by 60% since 2020 and implemented a new and improved team structure with deep expertise and additional staffing.
We also released our new and improved Intact Platform Knowledge Base in 2021. It offers a comprehensive collection of product and feature how-to guides and answers frequently asked user questions so you can get the most out of the Intact Platform. The ever-growing resource expands by the day and is increasingly interlinked with our solutions.
Intact Platform – Strong Foundation for Ongoing Innovation
We are constantly engaging in community-driven development so Intact users can benefit from new features launched every year. We are especially proud of our efforts in future-proofing our solutions for decades to come.
As the global IT infrastructure and entire audit and certification landscape are constantly evolving, it's more important than ever to create a technical infrastructure with a future-proof base. We gave the fundamental Intact Platform features an update to ensure that your audit and certification data is secure and handled for years to come.
New Feature Highlights
Working Time in Web
User Self-Registration
User Management in Web

Intact Mobile enhanced

Intact BI enhanced
Futureproofing Highlights
Major UI/UX Improvements
Enhanced Quality Assurance & Test Automation
Constant Updates and Refactoring
New Version Control and Improved Deployment Pipelines
Amazing New Partnerships
Welcoming new partners to the Intact community is always a reason to celebrate. The feedback and innovative power of the Intact Community allow us to build the best solutions for simplifying your work and mastering your challenges. Members of the Intact Community – customers, partners, and stakeholders – collaborate to share know-how, best practices, and ideas for improvement.
Our community-driven development approach benefits greatly from a diverse and international roster of clients. Working on a broad variety of challenges and developing solutions for them ends up feeding back into our core products. This approach not only benefits our community but at the end of the day, the entire industry.
This year, we have had some amazing additions to the Intact community with new customers like GRMA, the Alliance for Water Stewardship and many more.