Intact Attends GFSI Global Food Safety Conference 2019 in Nice
Feb 01, 2019
The GFSI's Global Food Safety Conference (GFSC) is one of the most renowned and influential events in its field. Also this year, Intact's top management takes part in this must-attend event for food safety professionals to keep up with latest industry trends and share their professional knowledge on audit, certification, and standards management with the GFSI community.
Chat with Intact's CEOs and Industry Experts
GFSI Conference 2019 in Nice at the French Riviera is a perfect opportunity to meet and chat with the executive management team of Software as a Service (SaaS) specialist Intact. Intact CEO Thomas Lorber and Jake Lewin, newly appointed CEO of Intact's US subsidiary Intact US, Inc., will take part in all three conference days and are happy to share their thoughts on trending food safety matters as well as innovative software solutions. Intact Is known for its flagship product ECERT – the leading ERP solution specifically designed for the requirements of the testing, inspection, and certification (TIC) market.
Our colleagues are looking forward to meeting you.
Dimo Hirsch, Intact's Head of Product Management, will also be in Nice to meet with various food safety stakeholders to discuss their most pressing challenges as well as strategies and solutions to cope with them. Intact will furthermore be represented by food safety expert Frank Gerriets, who is looking forward to seeing industry peers and working out practical approaches to increasing food safety on a global level.
ECERT Mobile App for Audits & Certifications
In Summer 2019, Intact will launch its highly anticipated ECERT Mobile App for audits and certifications. While participants of Intact Summit 2018 had the chance to take a look at it last autumn already, visitors of GFSI Conference 2019 will now also have the opportunity to schedule a live demonstration with Dimo Hirsch to experience the ECERT Mobile App first hand.
The app is suitable for any standard and any type of audit and certification. It will be available for Android, iOS, and Windows 10 and run on smartphones, tablet computers as well as laptop computers with a touchscreen.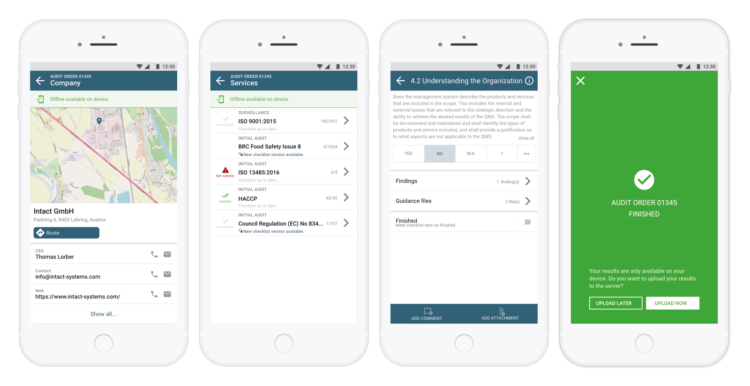 The Future of Food at GFSI 2019
GFSI Conference 2019 will focus on Emerging Challenges and the Future of Food Safety. With new developments in science and technology and an ever-changing global marketplace, the food retail industry, as well as the certification industry, are experiencing extensive, exponential change. Intact, leading innovation in the development of software solutions for the TIC market, is an experienced partner for standard setters, certification bodies as well as companies performing supplier audits to effectively and efficiently cope with the challenges facing them.
The Global Food Safety Conference (GFSI Conference)
February 25–28, 2019 | Nice, France