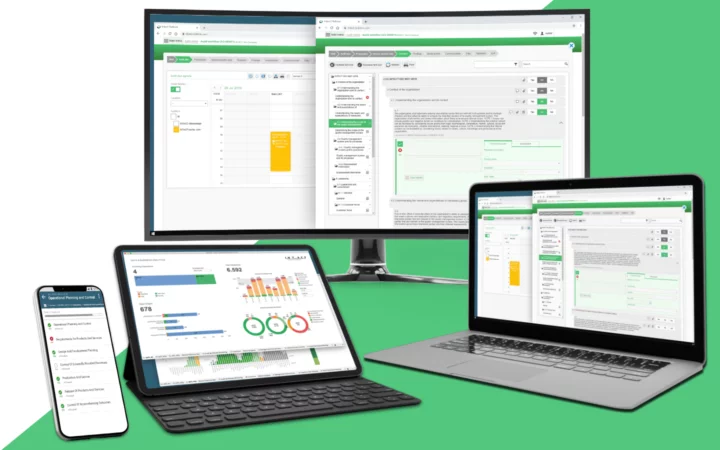 The Future of Auditing Is Now
Stop wasting time with dumb checklists, tedious Excel sheets, and unstructured workflows to focus on what really matters.
Intact provides a full set of solutions globally to increase audit performance and efficiency, secure accreditation, and tools to open new revenue streams.
Increase efficiency and business success now!
Intact – Your Full-Service Solution
Discover the future of auditing and certification now. It doesn't matter if you are choosing a tailored, single-module solution or the full package – Intact will help you save valuable resources and provide a better audit experience for your clients.
Intact Platform – Master All Audits and Increase Efficiency
Easily master onsite, blended, and remote audits with our complete audit and certification solution. The Intact Platform powers audits and certification on every continent and brings standardization, innovation, and increased efficiency to your certification business
All-in-one software solution – from audit planning to certification and more
Modular toolset – only use the parts you need and scale as you grow
Fully digital workflow – 30% efficiency increase on average
Ready for remote, blended, and desktop audits
Audit anywhere with the Intact Mobile app – online and offline on phone, tablet, or PC
Complete oversight with Intact BI – integrated management dashboards
Intact Analytics – Make More of Your Data
Insights without searching. Intact Analytics uses Artificial Intelligence (AI) to analyze audit data, find anomalies, and make suggestions to improve audit performance and planning. Make informed decisions with no data science know-how needed.
Analyze 100 % of your audits – not just random samples
Cut the noise – smart dashboards show only what's relevant
Automatically identify anomalies, root causes, and risk factors
Simplify risk-based audit planning
Gain insights on auditor performance and learn from the best
Set up a Meeting
Learn more about Intact's solutions