Intact Is Shortlisted for the Fast Forward Award 2019
Jul 12, 2019
For years, Intact has proven to be a force to be reckoned with when it comes to new pathways and software solutions. One of our efforts, headed by Jochen Kleboth, just got shortlisted for the Fast Forward Award 2019. This award focuses on innovative research and development projects, latest processes, and outstanding products and services.
Next-Level Data Analytics — The Power of Prediction
We have come a long way, from trying to predict the future in the most obscure ways—the ancient Romans studied the cries and flights of birds, 19th century Russians used chickens, and some even tried to see the future by observing clouds in the sky or moles on peoples faces. The list goes on and on. However, in the last two hundred years, humanity has turned to science to predict the future more securely and seriously; from the future location of a comet to the existence of black holes.
All of this was made possible by math and the use of a particular field in applied mathematics—statistics. Statistics is a unique thing; it is not an empirical science itself but also not pure mathematics or philosophy. It gives us the framework, the language, the rules by which we do science. With it, we can make decisions, conclusions, and also predictions. It predicts possible future events and provides us with the best crystal ball humanity can have. Mathematics of probability tames the chances of making the correct decision.
That is the point of Jochen Kleboth's work at Intact. Jochen is Intact's Head of Data and Business Analytics and has done exceptional work with the Analytics project for a long time already. His work focuses on Business Intelligence, including audit prediction, an audit explorer, a root cause analyzer, and an anomaly dashboard. Basically, Jochen is dealing with three major questions:
What happened?
Why did it happen?
What will happen?
Being able to analyze one's data and make predictions for future events based on those results is the power of statistics and data analytics. Prediction by the numbers is more than just a dream—it is what is possible with Intact's research.
All of Intact's customers have huge databases with all the audits and work they have ever done. Intact's Business Intelligence Department unleashes the power of this already existing data. You can even predict the outcome of future audits and, upon that prediction, decide if you need to send auditors with special knowledge or bias, or if you can even skip an audit due to very low risk.
In the end, Intact's research will save our customers money, help them plan their audits much better, and minimize the possibility of a failed audit/inspection.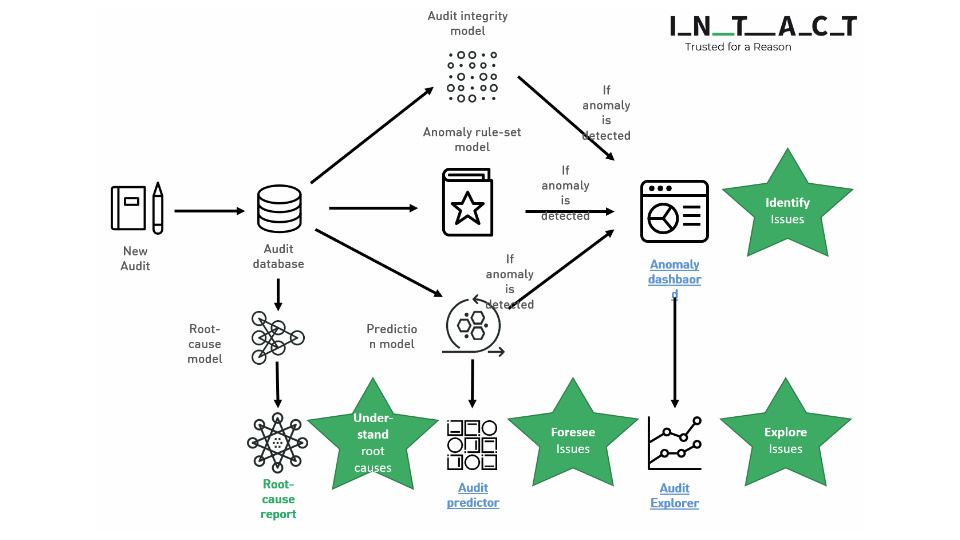 The modules Intact offers its customers are:
Business Intelligence
Control your business
Anomaly Dashboard
Identify patterns
Audit Explorer
Identify causalities
Audit Predictor
Predict and optimize your business
Root Cause Analyzer
Find causes for non-conformities

The Fast Forward Award is a business award for exceptional work in the field of research and development in the Austrian state of Styria. The Styrian government awards it in six categories. There are five nominees in each category, and three of them advance to the final of the Fast Forward Award where the winning company gets chosen. However, there is even more—three of these award winners have the chance to win the Austrian Staatspreis Innovation where the winners of all Austrian states compete against each other.
The Fast Forward Award Nomination EventOn July 10, 2019, Intact was invited to present its research at the Fast Forward Award Nomination Event where the top five companies in every category had time to explain their project to the audience.